Energy savings solutions at a textile factory with VPInstruments
The biggest textile factory in Pakistan has gained full control of their production process thanks to VPVision. Losses are quickly detected and resolved. Furthermore, the increased insight into the factory's production process makes long-term improvements possible. All current optimization has already led to the possibility to add four to five looms on the same compressed air system!
"VPVision allows us to increase our production!"
The biggest textile factory in Pakistan has over 48 loom machines in use for weaving cloth. These run 24/7, all year long. This makes efficiency of the utmost importance. The compressed air system plays a key part in the factory's production process. For this they use four compressors, of which two are in operation and two on standby. But how does the factory know that these compressors operate in the most optimal way? Here VPVision comes into play. The Sr. Manager at the textile factory explains how VPVision has changed their production process for the better. "I rate the performance of VPInstruments 9 out of 10!"
Knowledge is power
The textile factory has been using VPVision for three years now. What was the initial reason they came to use it? The company became ISO 50001 certified. This made it mandatory to measure and monitor their compressed air system. They found a solution for this via their Pakistan-based dealers Rastgar and Air Audit. The name of this solution: VPVision.
Plans for the future
The factory started off with one flow meter and later on expanded with a complete package. It does not stop there, however. They are currently testing out a wet air flow meter. Once the results are accurate, they would like to have one on all four compressors. Furthermore, the factory is currently building a new plant in Karachi. They plan on installing VPVision with flow meters in this location as well.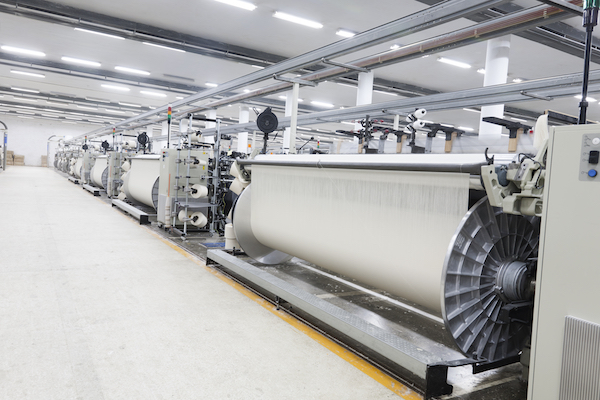 Detect losses and save money
VPVision helps identifying losses, estimates the amount of air that is needed and looks at compressor efficiency. The Sr. Manager describes the equipment as "very helpful in production." Both he and the operational manager have VPVision installed on their PC, and via web browser they can also access the program on other computers. They monitor it every day. Does anything prove abnormal? Immediate action can be taken by investigating the situation and informing the production team. In this way, losses (such as leakages in the pneumatic pipes) can quickly be detected. VPVision also helps with long-term improvement, however. The following example showcases this.
Optimization with VPVision
The textile factory detected a large pressure drop between the compressor and their loom machines. The average pressure drop for that distance is 0.3 bar. In their case, however, the pressure drop measured 0,8 bar. A costly situation! To illustrate: if one were to decrease pressure by 1 bar, this would equal an energy reduction of no less than 7%. VPFlowscope made them aware of their loss and allowed them to take immediate countermeasures. They will enlarge the pipes to ensure a normal pressure drop. VPVision has helped the textile factory save quite some money in this way.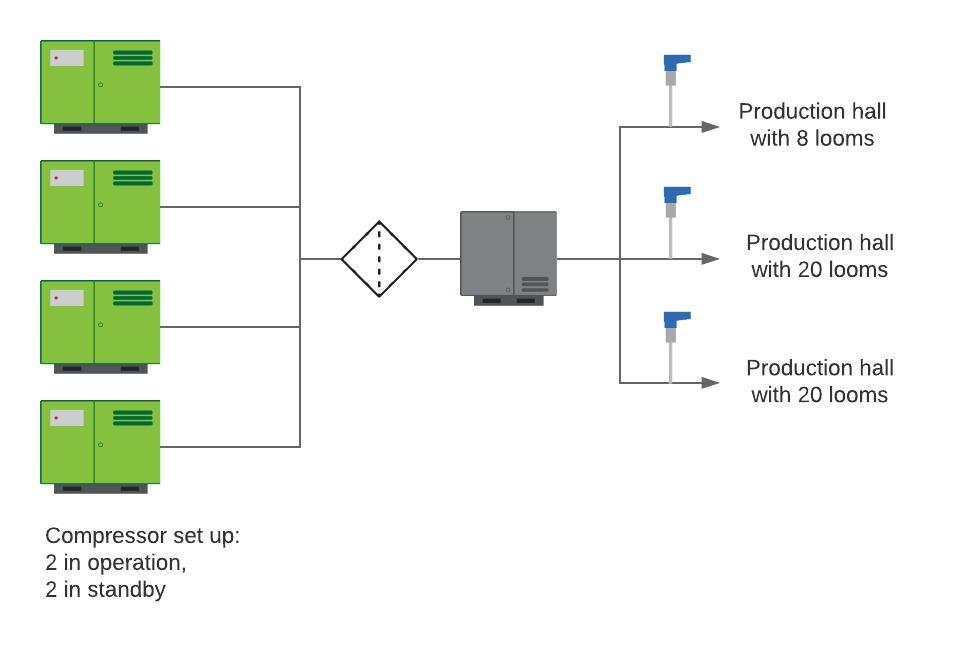 Increase your production with VPVision
VPFlowScope Probe measures with high accuracy. It tells the factory how much air is needed for full production and gives feedback on its limits. On average, one production machine uses 1.3 m3/min to weave cloth. This number changes, however, according to the quality of the weave. A lower quality of weave requires 1.2 m3/min, while a higher quality needs 1.4 m3/min. These numbers are important, because the machine will stop if there is not enough air. VPVision gives them insight and full control of their production. Per machine they can plan the right type of quality weave and thereby make full use of their capacity. All current optimization has already led to the possibility for the textile factory to add four to five looms on the same compressed air system. 
Your factory deserves real time energy monitoring
VPVision is the easiest way to gain efficiency and increase production. This Pakistani textile factory testifies to this. Are you interested in increasing production for your company as well? Talk to our experts! VPInstruments offers tailored, energy saving solutions for various industries. 
Try our cost calculator and get direct insights in your potential savings.