Energy savings solutions in the automotive industry
Compressed air consumption is vital in the car industry. Measuring and monitoring of your compressed air and other utilities will lead to significant system improvements and energy savings.
With the introduction of compressed air, the automotive industry has been significantly improved in terms of workers' safety and overall plant efficiency. Nowadays you will find compressed air in almost all aspects of the car manufacturing process, like vehicle assembly, conveying, painting and cleaning. Compressed air is thereby a vital utility as it is critical for production and energy costs are substantial.
Compressed air usage examples in car plants:
Compressed air is found in the painting process. The car bodies are cleaned with dry oil-free compressed air and low-pressure air is used to operate the spray guns. Air quality is vital here, as any contaminants in the air supply will cause costly re-work or even production losses.
Heavy lifting is eased by the compressed air conveyer system. They use clean dry air to create a thin film of air between the worktable and the floor, allowing parts and the (assembled) car bodies to be send through the production line. Furthermore, robotic machinery use compressed air to lift, transport and to place heavy components.
With compressed air, the metal forming machines turn the sheets of metal into vehicle components.
There are many air-powered tools in the factory for e.g. fastening and screwing of components in their place, and removing bolts and nuts. Air-powered saws are used for grinding and cutting of metal.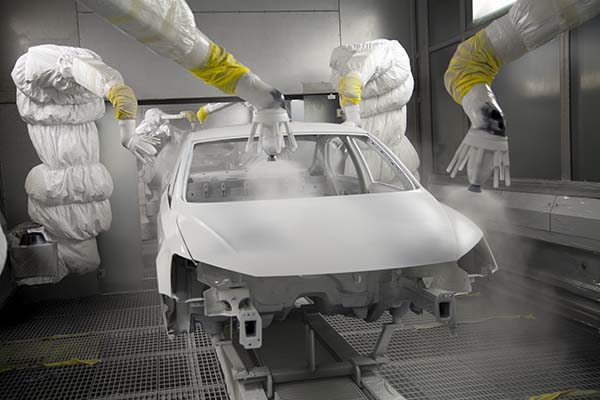 Compressed air measurement and monitoring
Reduce your maintenance costs, monitor air quality and prevent expensive production losses. Measuring and monitoring your compressed air system permanently is key. Even more, you can realize significant energy savings, as you can optimize your compressed air usage. For instance, detect and repair leakages, determine the right pressure / flow level for your production processes and investigate if you could switch to low-pressure air for certain handling. Check out this car manufacturer in the USA, how they save $600,000 anually in their compressed air system.
Argon
Compressed air is not the only utility that presents an energy savings possibility. In the automotive industry you will also find argon, e.g. as protection gas for welding robots. Investment in one flow meter can already show a significant savings potential, as this car manufacturer in Tennessee, USA, uncovered: